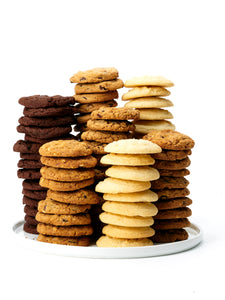 Twelve Dozen 1 oz cookies (144 cookies)
The Big Kahuna! Our gathering box is loaded with cookie deliciousness! Includes 48 chocolate chip, 24 lemon sugar, 24 oatmeal raisin, 24 triple chocolate, and 24 snickerdoodle. Perfect for parties, large offices, or big groups. 

Because you love to help
Who doesn't love a good cookie? Who doesn't love to be a good cookie? And who doesn't love a gift that gives back? The perfect win-win-win scenario.
Because you support the science
Every gourmet cookie you buy supports research at the nation's leading pediatric cancer centers. Your purchase is also tax-deductible.
Because you love a good cookie
Each delicious cookie is hand-scooped and baked fresh-to-order. They are delivered in a white gift box with a note explaining the significance of your gift.