Fatherhood Through the Lens of Loss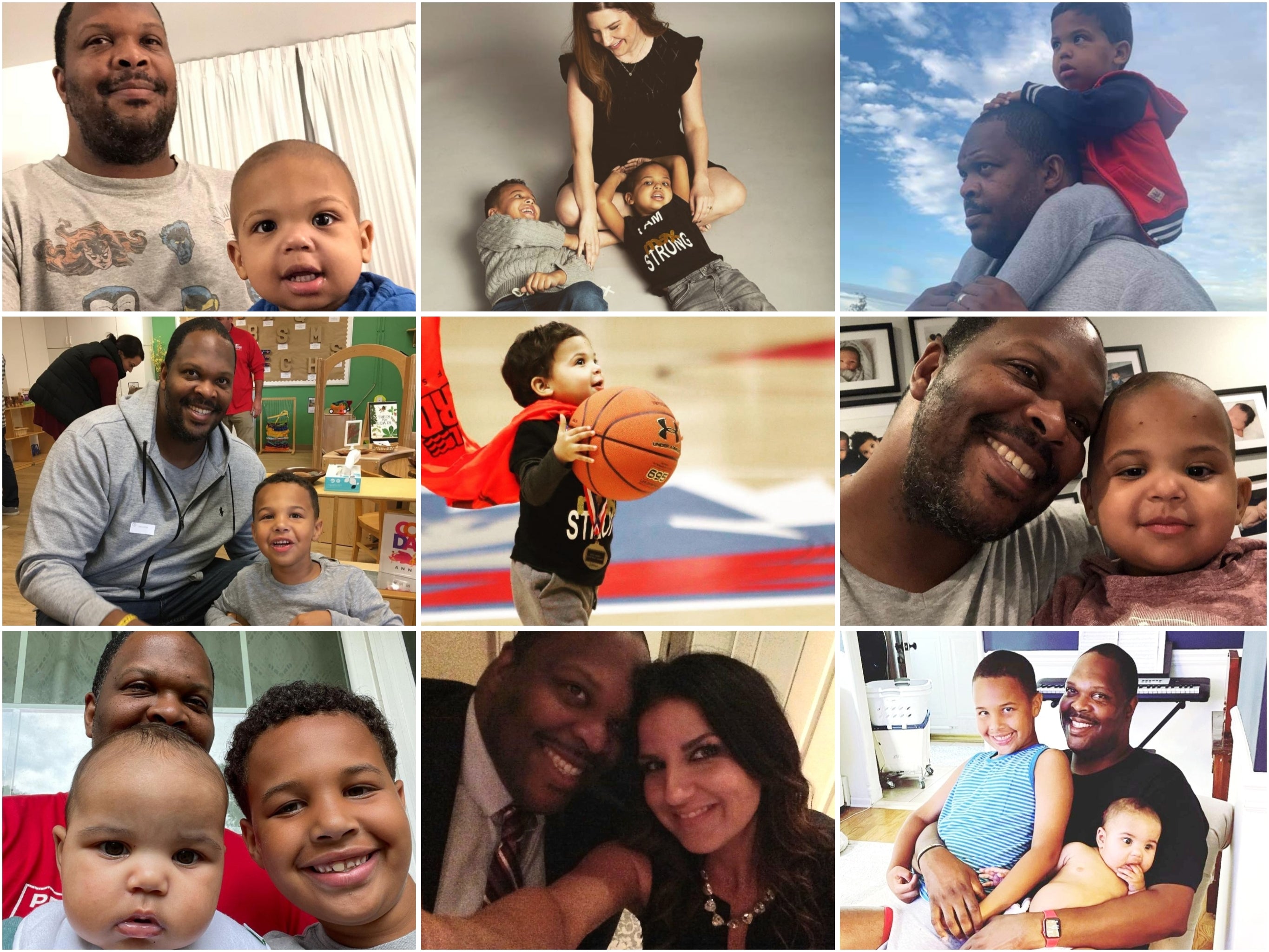 Tahj Holden, father to Cole, Max and Lennox reflects with honesty and vulnerability on the aftermath of losing his son Max to childhood cancer and offers suggestions on how we can all help dads who have lost children. Sometimes it can be as simple a gesture as asking them to share a story.
An Indescribable Loss
I didn't understand. When our son Max was diagnosed with neuroblastoma five years ago, his chances of survival were just 3 in 10. It wasn't great odds, but it offered some hope. I thought I was prepared for the challenges that awaited us during his treatment, but I had no idea. How do you wrap your head around the sight of tubes protruding from your child's chest, requiring daily cleaning with saline and a blood thinner called heparin to prevent blockage and the need for surgery to replace them? I remember we did it so often that eventually Max wanted to help, injecting the medicine into his own tubes. It was impressive to witness, but it broke my heart that a two-year-old was self-administering treatment for his own cancer, right at home. Little did I know that those days, challenging as they were, would become memories I'd give anything to relive. I long for the opportunity to hold Max in my arms, even for a moment, for any reason. It's a conflicting feeling because, on one hand, I wouldn't want him to suffer from illness, but on the other hand, the longing for him is overwhelming. When he passed away, the thought that at least he no longer had to endure pain or medical procedures provided a sense of relief.
I woke up on Tuesday, March 24, 2020 (though I hadn't really slept much) with a plan to take Max home. We had gone to the hospital for a blood transfusion that Sunday, but his blood count was dangerously low, making it too risky to let him leave. So we stayed. Instead of calling my wife to inform her that we were heading home to the room she and my oldest son had cleaned meticulously for Max's return, I had to call and ask her to come to the hospital with Max's brother. We went home without Max. Our two-year battle against
neuroblastoma
came to an end, not with no evidence of disease, but with us leaving our son
Maxwell Thomas Holden
behind on a hospital bed.
What came next was indescribable. The next time I saw Max was a few days later at the funeral home, where he lay peacefully in his casket. Due to the pandemic, we weren't allowed to bring anyone else, so it was just my wife, me, and Max. Closure was elusive, as the pandemic delayed any gathering until August when we could finally have his celebration of life. For months, an open wound lingered within us, unable to heal because we couldn't be with our friends and family. In some ways, it was a relief not to have to discuss it constantly, but I needed to talk about it. The loss, the isolation, and the instinct to protect my family have taken an expected toll on me, though I wasn't fully aware of it for some time.
The Weight of it All
After Max passed away, my immediate focus was on ensuring my wife and oldest son would be okay, and let me tell you, that was (and still is) a monumental challenge. As one can imagine, my wife experienced the full range of emotions that a mother who has lost a child goes through. My other son went on spring break and returned to find his brother and best friend gone. Instead of going back to school after the break, he had to continue virtually for the remainder of the year due to the pandemic.

When he finally returned to in-person schooling, he struggled to cope with grief and sadness that he couldn't fully comprehend or explain. In my eyes, my role was to be the father, husband, and protector for my family. But there was a critical flaw in that assignment—I neglected to take care of myself.

Please note that my intention is not to seek pity, but to shed light on what happens to fathers after losing a child. Often, I find myself envious of the attention and support my wife receives from her friends, who consistently ask how she's doing. It seems that my friends, perhaps influenced by the stereotype of men needing to be tough and stoic, don't inquire as often. In many ways, I was the rock, the pillar of strength for my family. However, deep down, I was shattered. I am still broken. Any parent who has experienced the loss of a child would understand. Consequently, every challenge that comes my way feels like an even greater burden than usual, and it seems like the hits keep on coming. In the past two years alone, I lost my son to cancer, my father to cancer, an uncle to COVID-19, we suffered a miscarriage, I started a new job, we had a new baby, and my mother went through a cancer scare. I pushed through it all, but once I received the news that my mother was okay, I crashed. The weight of it all caught up to me.
The Truth is
I've been seeing a therapist since Max passed away, but I've been deceiving myself. I haven't been entirely truthful, convincing myself that I was doing fine—the truth is, I'm not. However, I'm actively working on it. It's an incredibly arduous journey. Throughout my life, I've been fortunate enough to succeed in most of my endeavors. And while I know I had no control over the circumstances surrounding Max's illness, my mind relentlessly tells me that I failed. I feel like I failed Max, my wife, his brothers, and my entire family because I was supposed to protect him. And I didn't. Deep down, I understand that this self-condemnation isn't true, but my mind and body continue to torment me, insisting that I'm a failure. Overcoming these thoughts has proven to be immensely challenging.
Not Alone in the Struggle
I share all of this to emphasize that I am not alone in this struggle. I didn't fully comprehend the aftermath of my son's passing—the beginning of the rest of my life without him. I still can't comprehend why he's not here. I didn't anticipate the emotional impact that would accompany the fight to save my son, then my family, and now myself. I'm reminded of a line from a rap song by Black Star in which Mos Def states, "Stars shine bright, but the light rarely stays on…" Max was the brightest light I had ever seen in this world. I didn't realize that the fight wasn't over—it had merely transformed. My focus shifted from saving my son to saving my family and now saving myself. 
Open Up and Share
There are countless fathers out there who are holding it together for their families while silently suffering themselves. You might think they're okay, but we're not. And I'm learning that it's okay not to be okay. Maybe some of us are doing better than others, but I know that nearly all of us would love to share a story about our children. So, this Father's Day, if you know a father who has lost a child, ask him to share a story about his child. We would love to have that opportunity to open up and share.
________________
Tahj Holden is a Banker in the Princeton, New Jersey, office of J.P. Morgan Private Bank serving the wealth management needs of a diverse clientele. A graduate of the University of Maryland, College Park, Tahj earned a B.A. in Communications and attended on a basketball scholarship. Holden, who played in 128 career games for the Terrapins, made four NCAA Tournament appearances while in College Park, including two Final Fours. Holden played in all 36 games during the Terrapins' 2002 NCAA National Championship season. After his playing career at Maryland, Holden played professionally in Istanbul, Turkey. A leader both on and off the court, Holden also served as President of the Student-Athlete Advisory Council for Maryland, as well as Vice-President for the ACC (Atlantic Coast Conference) Student-Athlete Advisory Council. Born and raised in Red Bank, New Jersey, Tahj resides in his home state with his wife Carrie and sons Cole and Lennox. The loss of their son Max to pediatric cancer in 2020 has framed his perspective on the value of family unity. At nearly seven-feet tall, Tahj is regarded by clients and friends as their rock through tumultuous times. He continues to coach high school varsity basketball to give back for all that he has received.
At Cookies for Kids' Cancer, we are committed to raising funds for research to develop new, improved and less toxic treatments for pediatric cancer – the #1 disease killer of children in the U.S. Our vision is that no family is ever told, "We have run out of options."

If you would like to make a donation in honor of kids like Max PLEASE CLICK HERE.