An Open Letter from Tahj Holden to His Three Sons on Father's Day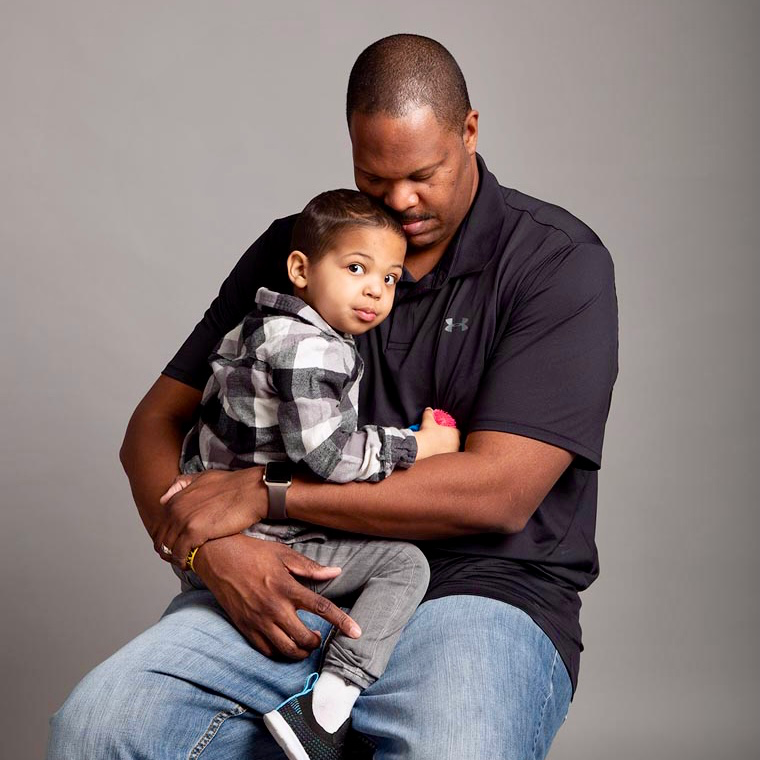 Tahj Holden is many things to many people: a former NCAA champ, a loyal husband, a beloved basketball coach, a trusted financial adviser for a global bank. But head and shoulders above all, he's a devoted dad. Raised by a smart, determined, and hardworking single mom without a father in the picture, Tahj found himself a bit out of sorts when his first son, Cole, came along—deeply in love, but also a little uncertain about how to be a dad. Certainly nothing could have prepared him for his second son's cancer diagnosis, and the difficult path his family would ultimately walk. Reflecting on Father's Day as a forever dad of three, Tahj still manages to feel lucky and hopeful in an open letter to his sons. 
To Cole, Max, and Lennox,
Cole: As my first born, you are the one who made Father's Day relevant to me. Growing up as I did without my dad, I had all sorts of emotions the day you were born. Immense joy, overwhelming happiness, but I was also confused and scared because I had no idea how to be a dad. Fortunately, over the years, I learned from the best. Coach Rivera, one of the first men who talked to me like he cared about me. Coach Williams, who taught me how to communicate my disappointment loudly. Your godfather's Papa, who taught me how to be well-mannered in restaurants and how to spot and procure a fine steak knife. All great men who influence how I father you and your brothers.
To Max, forever 3: When you got here, we thought our family was complete. Since I grew up as an only child, it was my hope that if I ever had children that I would at least have two. And boy, were you perfect. You were the perfect son to mommy and me, but man oh man were you the perfect brother for Cole. When you were old enough to play together I could tell that there was no better friend for him. I was so happy. And then you got sick. For two years, we fought cancer together. And then you were gone, and the world stopped. And I don't mean that only in the sense that our world ended when you passed. The world literally shut down for the pandemic, and we were stuck in the house for months. It was so hard. It's still hard. I miss you so much. We miss you so much. And I am still mad. Mad at how that first doctor brought in a resident and said you were an "interesting case." You were not a case. You are my son. I'm so mad that we as a country don't make helping kids beat cancer a priority and that the National Cancer Institute only devotes 4% of its budget to pediatric cancer. Four. I had to spell it out because sometimes I see the number and often think it's a typo, but it isn't. I'm mad that Cole has to miss you so much that he wants to come visit you in heaven because I know if he does that it means he's not coming back. It hurts every time I have to explain it to him. I'm so mad that you aren't here to be a big brother to Lennox. He would love you so much. I'm so mad that I'm mad every day you aren't here and that I have to go out into the world like I'm OK. You not being here isn't fair, but I've learned how to deal with it, and I am getting better at it every day. Max, I cannot explain to you, or to the world for that matter, how proud I am to be your dad. Every day you fought. Every day you showed me how to live through dark days with an energy that you should not have had because you were battling cancer. I try to be like you, but I cannot match your strength. Some days I cry. Most days I cry. Still. And because of that pain, I will do what I can to make sure that if we can't completely eliminate cancer before any child gets it, then at least when a dad hears, "Your child has cancer," and he asks, "How long until my child is cured?," there's a solid answer.
Lennox: There are so many things you will learn about your brothers. You'll learn about Cole from experience and Max from the stories our family will never stop telling. You are lucky that you didn't have to live through Max's treatment with us and that you never felt the fear of knowing he was leaving us. I assure you that you will feel his energy as you grow. Your brothers are the best, and I trust you will come to understand that over time.
Boys, you are my pride and joy, and I cannot tell you how proud I am to be your dad. From the moment Cole was born, until I see Max again, I will love you with all that I have and then some because you make me one of the lucky men in this world that gets to be called 'Dad.' I love you always.
__________________ 
In the U.S., 1 in 285 children will be diagnosed with cancer before reaching their 20th birthday. Funding for research for new, improved, and less toxic treatments is what drives us, but we can't do that without the main ingredient: you. Be a Good Cookie and get involved today to help the parents who will be fighting with their children tomorrow. We can and are making a difference. Help fund critical childhood cancer research HERE.