We Traveled With a Purpose to Niagara Falls—Here's What Surprised Us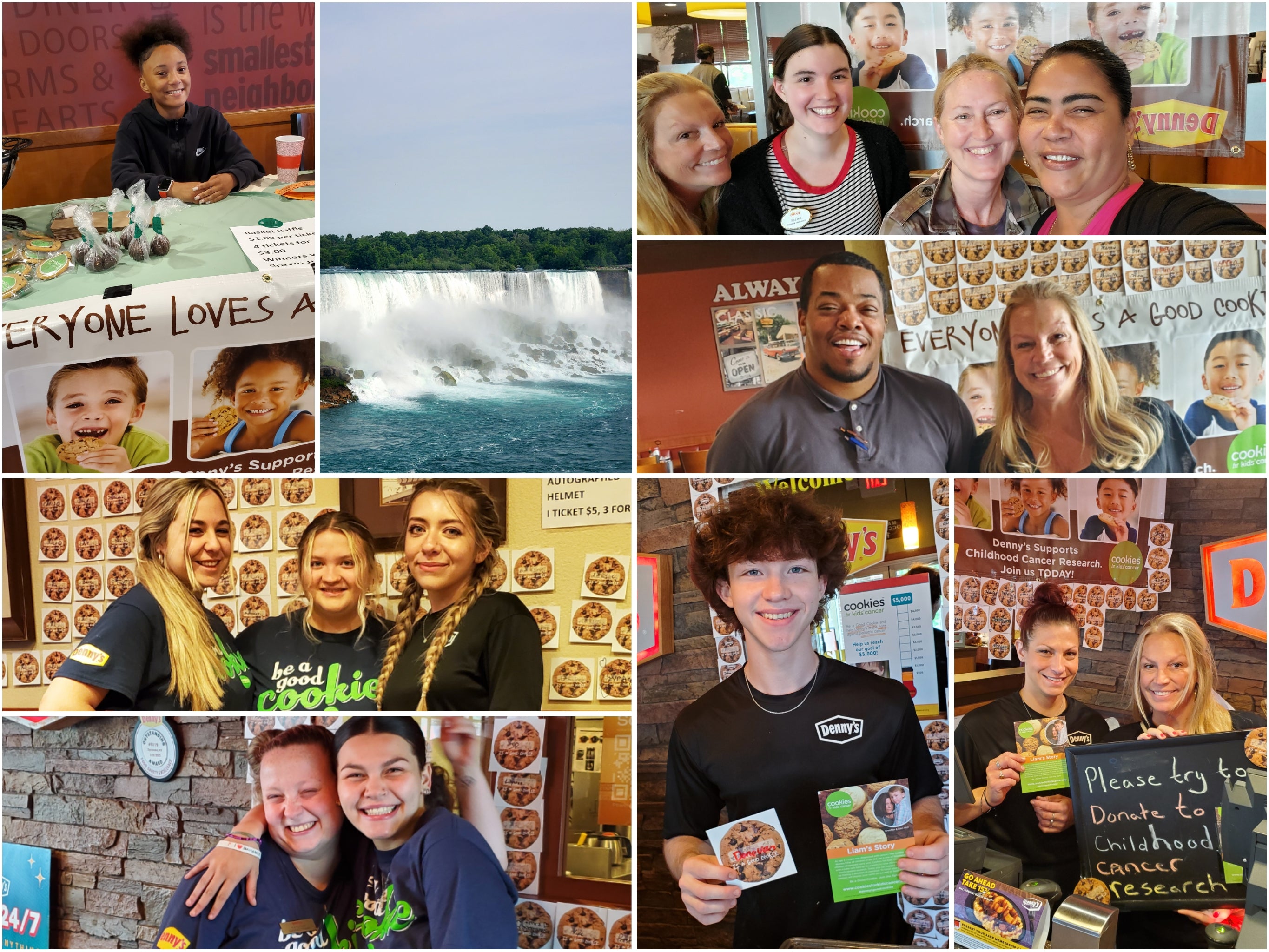 Girls' trip! If you're like me, you'll look for any excuse to plan a getaway with a good friend. So when my BFF and I set out to finally fulfill a lifelong desire to see epic Niagara Falls we knew we had to add a twist. Spoiler alert, we got to see the majestic falls but the best memories we brought back were of the welcoming smiles we were greeted with along the way.
Plan Ahead
There's nothing like a good old fashioned road trip. It takes a little planning ahead if you are going to hit a few landmarks along the route to your destination but it's time well spent. For this trip, we decided the landmarks we were going to pin on our map were none other than 19 restaurants, better known as America's Diners, in upstate New York. Food tour! We were going to visit 19 Denny's in the lead up to another American icon, Niagara Falls. For those of you who are fans of the best menu item name ever…that's a lot of Moons Over My Hammy®.
Everybody's So Creative
You may have already heard the buzz, but people are increasingly looking for creative ways to give back. Traveling with a purpose, taking a service trip, volunteer vacations … all popular search terms these days. We decided to jump on that band wagon and could not have been more grateful that we did just that!
Dine With a Purpose
For 13 years now, Denny's locations across the country have joined forces to help Cookies for Kids' Cancer raise awareness and fund critical research in support of kids fighting all pediatric cancers. Since the partnership began in 2011, Denny's guests have donated more than $1,000,000 to help get treatment from the research lab to children's bedsides in the shortest time frame possible. We knew we had to meet the 'Good Cookies' behind that awesome alliance.
Places to Go, People to See
Remember, we had set out to fulfill a bucket list item of seeing a natural wonder of the world. Imagine our surprise when stop after stop, at each Denny's on our route, we were blown away by the heart and soul of the communities we were traveling through. We found that community spirit at Denny's and were thrilled to contribute to the fundraising efforts by rounding up our bills, dropping change in brightly decorated containers at the register or purchasing a paper cookie and adding it with our names to the wall of Denny's Good Cookies that we encountered at each location. We were met with the most appreciative greetings and watched fellow diners also willing to get involved for kids. It was awesome!
All That and More
We were midway to Niagara Falls when we stopped into our 11th Denny's and met team member Donovan. While we were thanking the location's manager for giving back to kids with cancer, 17 year old Donovan emerged beaming with gratitude from the kitchen to share that he was a pediatric cancer survivor. Diagnosed with lymphoma at age five, Donovan shared he was now over eleven years with no evidence of disease. Another unexpected and awesome surprise further cementing the fact that traveling with a purpose is all that and more!
Hello Niagara
After further Denny's visits left us grinning ear to ear, we finally made it to our destination. Niagara Falls is beyond breathtaking. The water is at once thrilling to behold as the rapids lead to the falls and yet the most mesmerizing and oddly serene crisp crystal blue. Awe-inspiring comes to mind. We walked along the trails and were utterly blown away by American Falls, Bridal Veil Falls and Horseshoe Falls, also known as Canadian Falls as it straddles the international border between the United States and Canada. What epic sights to behold!
Worth It
Seeing Niagara Falls after years of talking about getting there was a reward unto itself. Yet, with that, the unexpected highlight of our trip was the twist to make it a trip with purpose. Getting to say thank you to the community members at Denny's who share a common passion for giving back to kids battling cancer was the real prize. There's a reason everyone is searching for creative ways to give back. It's worth it.
*Exciting Update
Our friends at Denny's, and the communities they serve, accomplished BIG things in 2023 ... raising enough to fund nearly THREE entire pediatric cancer research projects! Thank you to everyone who participated!
____________
Cookies for Kids' Cancer is a national 501(c)3 non-profit and is committed to raising funds for research to develop new, improved, and less toxic treatments for pediatric cancer — the #1 disease killer of children in the U.S.
Rachel Roberge, the author of this post, is the Senior Editor at Cookies' for Kids' Cancer. Prior to joining in an official capacity, she has served as an advocate and volunteer with the organization since 2010. Rachel strongly shares the vision of Cookies, That no family is ever told, 'We have run out of options.'