10 Holiday Gifts That Give Back to Pediatric Cancer Research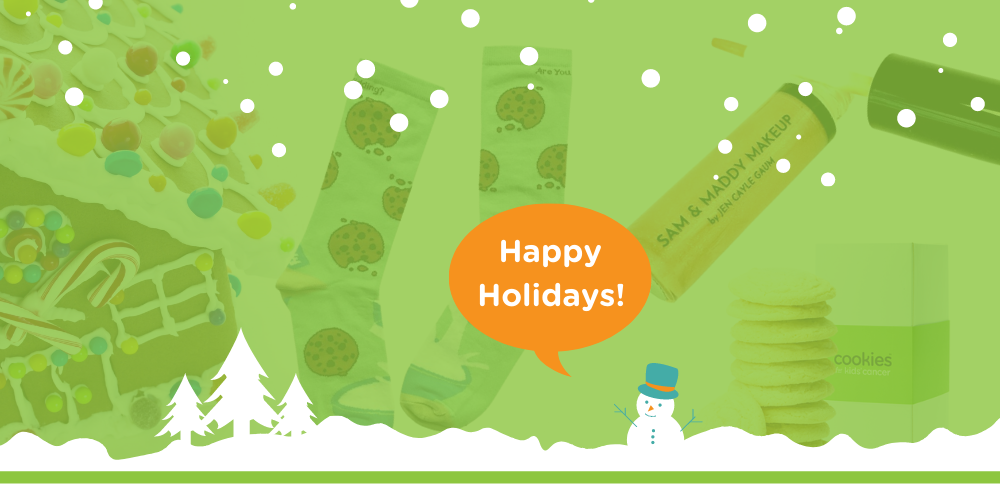 It's that time of year, let's spread holiday cheer! From a lip gloss created just for us to a special gingerbread house, we've teamed up with some awesome friends to create a gift list that has something special for everyone. 

1. One Hour of Pediatric Cancer Research  
Did you know that $100 funds an hour of pediatric cancer research? Your donation will fund a power hour of research which, in our eyes, makes you a superhero. 
 
And, we'll even send you a gift to thank you for supporting the scientists on the front lines working hard to help kids. Choose one dozen of your favorite flavor of our delicious and baked fresh-to-order cookies!   
 
But that's not all, we want you to share the Good Cookie spirit with someone else. With your donation, you'll have the opportunity to send a box of our irresistible cookies to a friend, family member, or co-worker who you think needs a cookie pick me up. It's a win-win-win. Scientists get funding for research, you get cookies and you get a gift to send to someone else.  
2. Get Ready, Get Set, Decorate!
Who is ready to build the ultimate gingerbread house? Our friends at Taste Buds Kitchen are jumping in to support us with the creation of their very own gingerbread house kit with everything you need to build a picture-perfect home. Taste Buds is the expert in creating kid-friendly activities so we know they're going to be great! This makes a fun holiday activity for the family or to give as a gift. $20 of every kit helps our mission.   
Jen Cayle Gaum, our good friend and founder of Sam & Maddy Makeup, has created a very special lip gloss in a neutral color that works on every skin tone making it a perfect gift for all! Sam & Maddy Makeup, named after Jen's kids, is created to bring out a healthy glow. Wear it alone or add a hint of shine to another lip product and with 50% of the proceeds going to us, you'll be doing good and looking great!   

Inspired by Milton Glaser's iconic 'I Love NY' logo, PiccoliNY is a carefully curated collection of clothes, toys, books, and accessories that reflect the spirit of New York City. Available in kid and adult sizes, PiccoliNY has pledged 1% of their sales to help fight pediatric cancer! Get something for you and your little one.    

There's a new kind of cookie on the block - Superkind Cookies! These super big and super delicious cookies come in a variety of flavors from salted peanut butter and snickerdoodle to vegan chocolate chip for the plant-based eaters in your life. And now, Superkind Cookies are available nationwide. A portion of every cookie sale comes back, so order a dozen or two and feel good knowing you're helping.   
6. Wear Your Good Cookie Spirit  
We've got merchandise! Introducing the Cookies for Kids' Cancer clothing line. (We're so excited!) We have everything from hoodies and hats, to tees and polos for good cookies of all ages. Brought to you by Cloztalk which works exclusively with nonprofits, each item is created from the highest quality materials. 20% of Cloztalk's annual net profits go back to their nonprofit partners, including us!    

7. Socks You'll Never Want to Take Off  
These unique Cookie for Kids' Cancer socks are not only stylish but also help fund pediatric cancer research. Are You Kidding Socks is a special like designed by two "kid" entrepreneur brothers. 20% from every pair supports our efforts which makes these cool socks a warm gift that gives back.  
MUSE x MUSE is back with its orange citrine heart charm in 18K gold by Ten Thousand Things as part of its "Have a Heart" charitable charm initiative. This sweet heart comes on a 20" leather cord but is easily removable to add to a favorite chain. 100% of the proceeds help us help others.   

9. Pastries that are Finger-Licking Good  
Pastry Creations is the mastermind of Pastry Chef Lindsey Farr and offers cookies, pies and bars that almost look too good to eat! When she's not in the Pastry Creations kitchen, she's the Executive Pastry Chef for Iron Chef Marc Forgione. A portion of proceeds from her shop will be donated to us.  
Antonelli Diamonds, a purpose-driven jewelry brand that creates timeless essentials and milestone pieces, is donating a percentage of their profits to helping move research forward. Their items include bracelets, earrings, and necklaces that make a meaningful gift for someone special. All items in the collection are named in honor of a cancer warrior and include the story of each. Check out the pieces designed for our friends Ryan and Caroline.   
  
Interested in contributing to pediatric cancer research in other ways? Contact getinvolved@beagoodcookie.org.