Faux Re-Os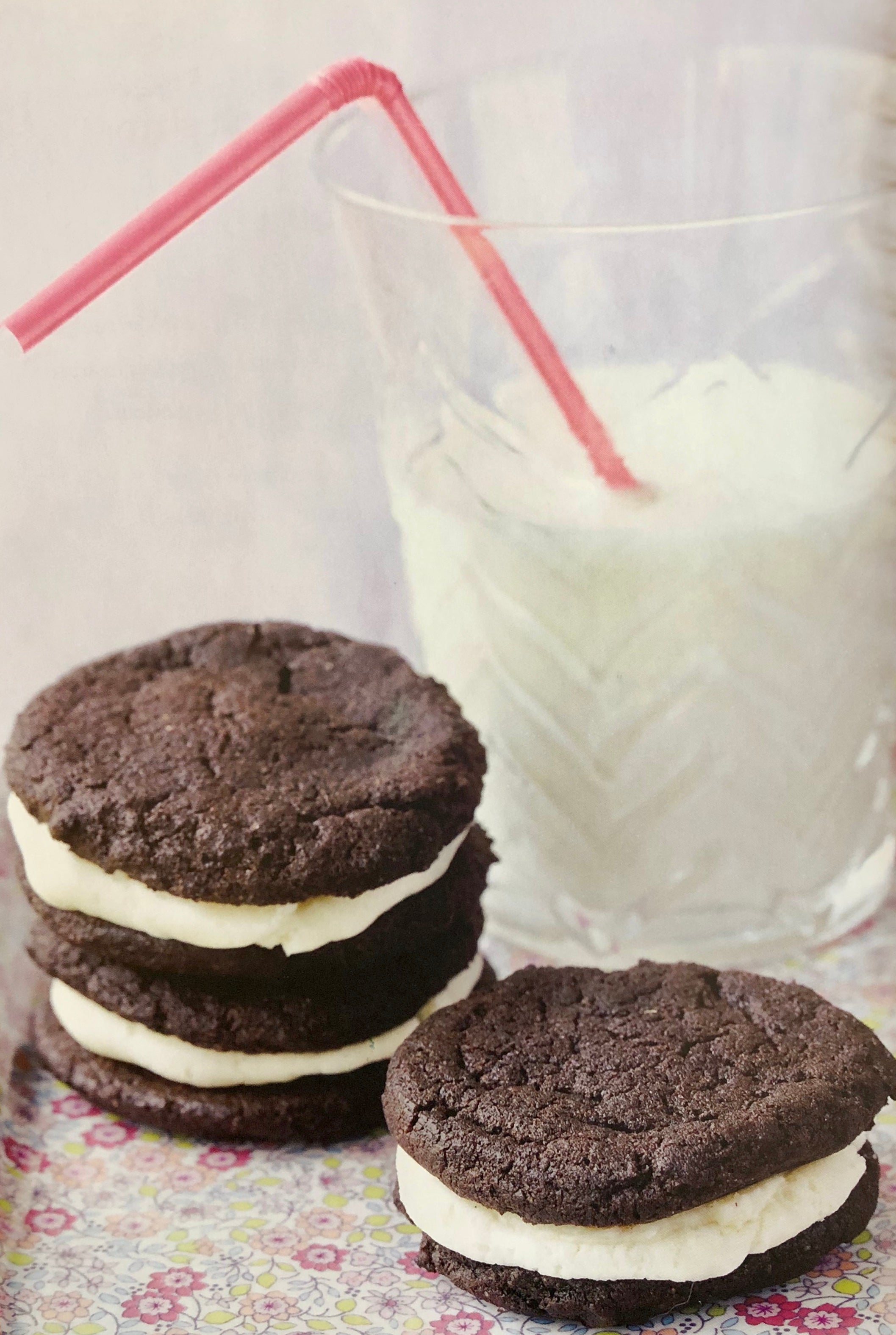 Faux Re-Os
From the All the Good Cookies cookbook, pg. 39
Yield: About 3 ½ dozen
The packaged variety is known as America's favorite cookie, but once you make your own you might never go back. Consider a cooler filled with cartons of milk and ice to sell alongside these.
For the cookies:
1 stick (1/4 pound) unsalted butter, at room temperature
1 cup granulated sugar
1 large egg, at room temperature
1 large egg yolk, at room temperature
1 teaspoon vanilla extract
1 ½ cups all-purpose flour
½ cup Hershey's Special Dark Unsweetened Cocoa Powder
1 teaspoon baking soda
½ teaspoon salt
¼ teaspoon baking powder
 For the filling:
6 tablespoons (3 ounces) unsalted butter, at room temp
3 tablespoons vegetable shortening
2 cups confectioners' sugar, sifted
1 tablespoon vanilla extract
Preheat the oven to 350 F. Line 2 cookie sheets with parchment paper.
To make the cookies: place the butter and sugar in a large mixer bowl and beat until smooth and creamy, about 3 minutes. Add the egg, egg yolk, and vanilla one at a time, beating after each addition. Scrape down the side of the bowl and beat again. Place the flour, cocoa, baking soda, salt, and baking powder in a separate bowl and mix well. With the mixer on low, add the flour mixture and beat until well combined. Scrape down the sides of the bowl and beat again.
Using a level small (2-teaspoon size) cookie scoop, drop the dough about 2 inches apart on the cookie sheets. With moistened hands, slightly flatten the dough. Transfer to the oven and bake until the edges begin to firm up, 9 minutes, rotating the cookie sheets on the oven racks halfway through the baking time. Cool on the cookie sheets for 3 minutes. Transfer to wire racks and cool completely. Repeat with the remaining dough on cool cookie sheets.
To make the filling: Place the butter and shortening in the bowl of a mixer filler with a whisk and beat until creamy. On low speed, add the confectioners' sugar and vanilla and beat until combined. Increase the speed of the mixer to high and beat until light and fluffy, 2 to 3 minutes.
Spread a scant teaspoonful of filling onto each bottom of half of the cookies and place upside down. Gently squeeze the cookie sandwiches so filling spreads to the edge.
Store in an airtight container for up to 3 days or freeze for up to 3 months.