Scoops of Rocky Road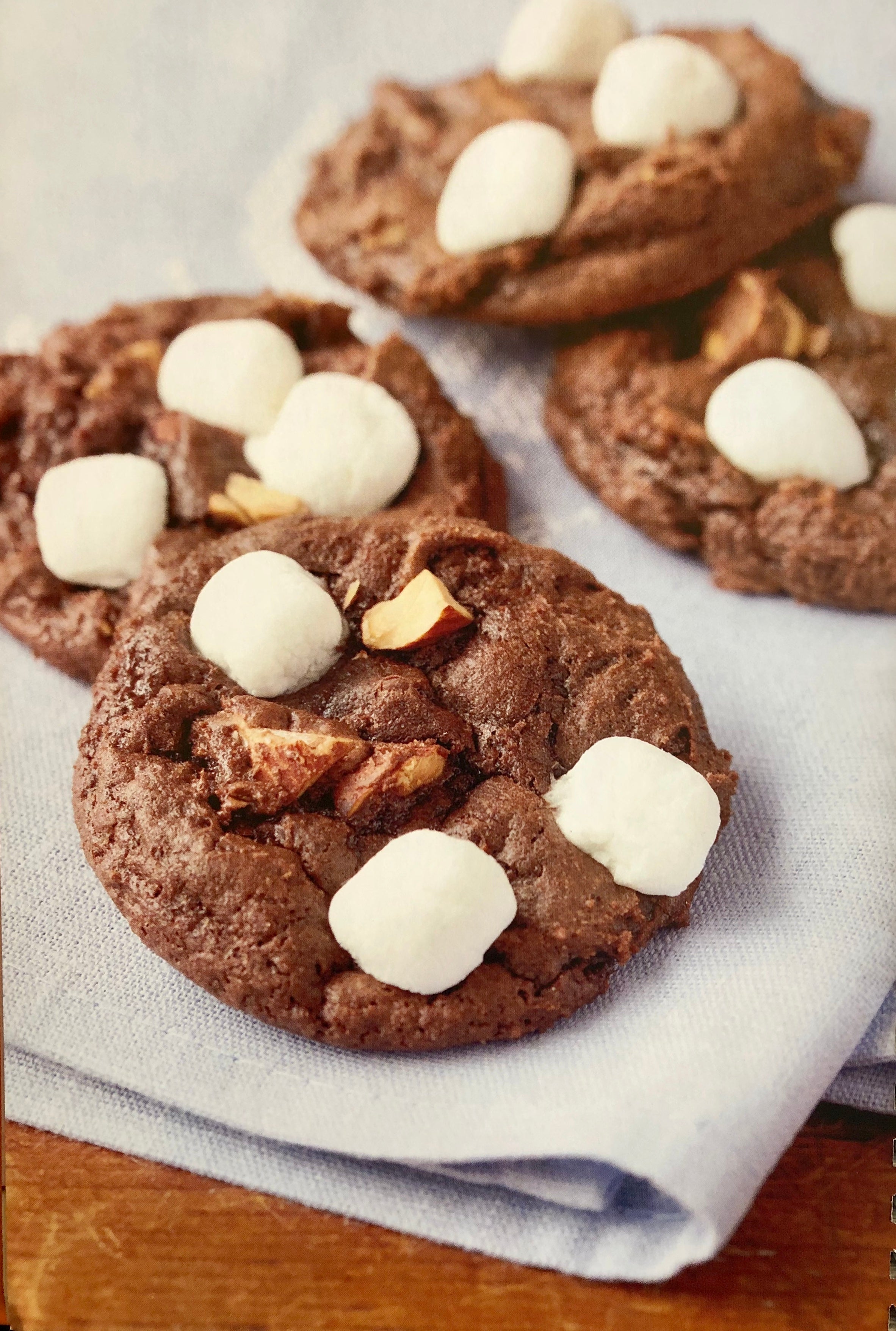 Scoops of Rocky Road
From the All the Good Cookies cookbook, pg. 63
Yield: 4 dozen cookies
We love taking easily recognizable dishes and turning them into something else with the same flavors – hence a cookie that tastes like a scoop of ice cream. You need to plan ahead to make these because the dough chills for at least 8 hours.
1 ¾ cups all-purpose flour
1 ½ teaspoons baking powder
¼ teaspoon salt
4 ounces unsweetened chocolate, coarsely chopped
1/3 vegetable oil
1 ¾ cups granulated sugar
4 large eggs, at room temperature
2 teaspoons vanilla extract
¾ cup semi-sweet chocolate chips
½ cup chopped almonds, toasted
1 ¼ cups mini marshmallows
Place the flour, baking powder and salt in a large mixer bowl; mix well.
Place chopped chocolate and oil in a heavy saucepan over low heat. Heat, stirring occasionally, until the chocolate is melted. Remove from the heat and stir in the sugar. Add the eggs, one at a time, stirring after each addition. Stir in the vanilla.
Add the chocolate mixture to the flour mixture in the large bowl. Beat until everything is well incorporated. Scrape down the sides of the bowl, add the chocolate chips and nuts and mix again. Refrigerate for at least 8 hours and up to 3 days.
Preheat the oven to 350 F. Line 2 cookie sheets with parchment paper.
Using a medium (1 ½ tablespoon size) cookie scoop, drop the dough about 2 inches apart on the prepared cookie sheets. Transfer to the oven and bake 8 minutes. Remove from the oven, place 3 mini marshmallows on each cookie and return to the oven. Bake for 3 minutes longer until just firm in center and marshmallows are just melting. Cool on the cookie sheets for 1 minute. Transfer to wire racks to cool completely. Repeat with the remaining dough on cool cookie sheets.
Store in an airtight container for up to 3 days or freeze for up to 3 months.