The Best Chocolate Chip Oatmeal Cookies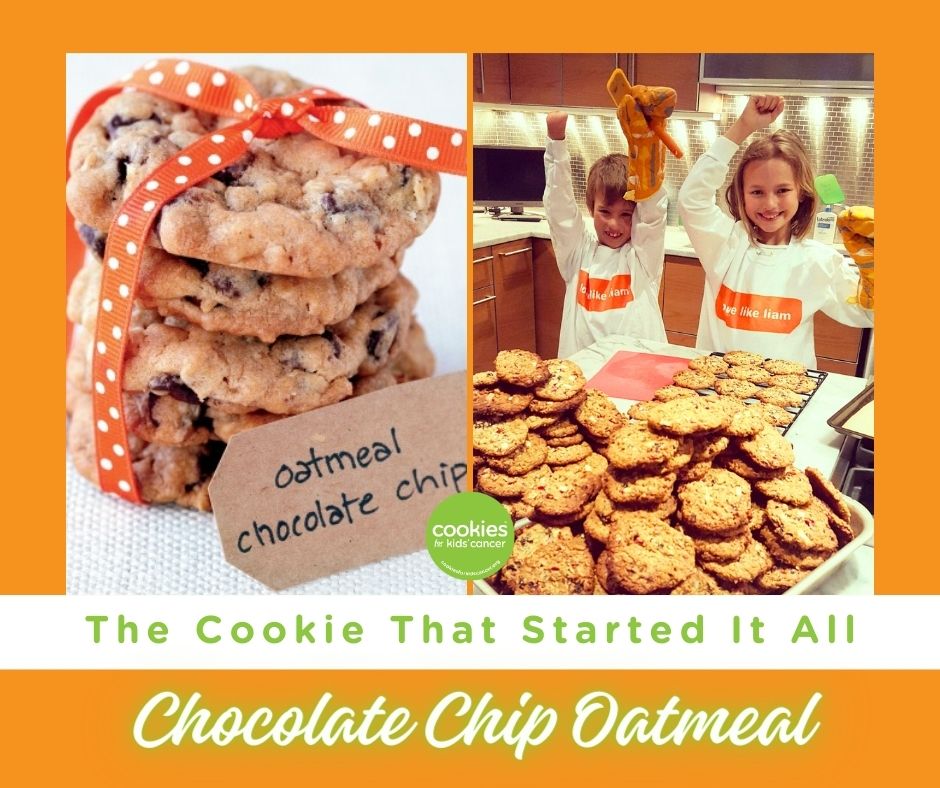 The Cookie That Started It All
Chocolate Chip Oatmeal Cookies - Recipe from Best Bake Sale Cookbook, pg. 3
Universal Favorite
Chocolate Chip Cookies are universal favorites at bake sales, but this recipe was developed specifically for Cookies for Kids' Cancer's first bake sale--the 96,000 cookie one. No matter the season, these dense, buttery, yet light, cookies - thanks to the oats - sell more than any other. 
Quality Chocolate Chips
Use the best quality chocolate chips you can find. Trust us, this inside tip makes the difference. 
The Recipe
Yield: Three to four dozen cookies
2 sticks (1/2 pound) unsalted butter, at room temperature
1 cup light brown sugar
1/2 cup granulated sugar
1 large egg, at room temperature
1 large egg yolk, at room temperature
1 tablespoon vanilla extract
2 cups all-purpose flour
1 cup quick-cooking or old-fashioned rolled oats
1 teaspoon baking powder
1 teaspoon baking soda
1 teaspoon kosher salt
3 cups semi-sweet chocolate chips
Preheat the oven to 325 F. Line a cookie sheet with parchment paper.
Place the butter and sugars in the bowl of a mixer fitted with a paddle and beat until smooth and creamy. Add the egg, egg yolk and vanilla, one at a time, beating well between additions.
Place the flour, oats, baking powder, baking soda and salt in a separate bowl; mix well and add to the butter mixture. Beat until everything is well incorporated. Scrape down the sides of the bowl, add the chocolate chips and beat again.
Form the dough into heaping-teaspoon-size balls and place them about two inches apart on the prepared cookie sheet. Using your palm, gently press down.
Transfer to the oven and bake until the cookies begin to brown at the edges, 12 to 15 minutes. Cool on the cookie sheet. Transfer to a wire rack and repeat with the remaining dough.
Bonus - Make Cookie Logs
To prepare cookie logs, roll the dough into 1- to 2-inch cylinders, depending upon the cookie, and cover with parchment paper. Place the cylinders in a resealable plastic bag. Refrigerate until slightly firm, about 20 minutes, and then re-form the cylinder to ensure that the shape is uniform. Return to the refrigerator until the dough is firm, at least one hour and up to five days. When ready to bake, slice the cylinder into rounds 1/8 to 1/2 inch thick, depending upon the cookie. You can also freeze the dough for up to one month! 
Use This Hashtag
Double Your Impact + More!

Our friends at OXO have jumped in to support funding pediatric cancer research by matching dollar for dollar what is raised through the end of the year. You'll see your donations matched automatically up to $100,000.

Help kids with cancer when you bake your treats and share them on social media using #OXOGoodCookies - Tag @OXO and @cookies4kids. OXO will be donating $1 for every cookie/treat shared - let's get baking!