Summer is the Perfect Time for Teens to Volunteer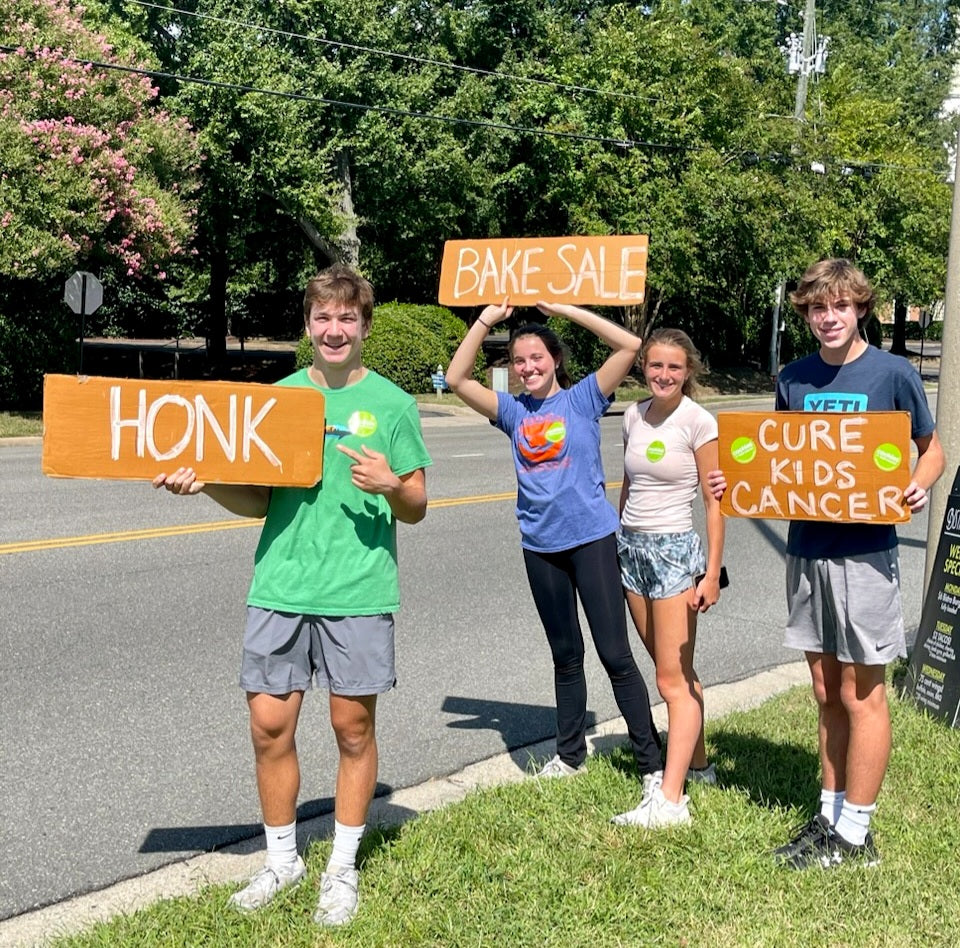 We try never to play favorites among seasons when it comes to raising funds for critical research. The bottom line is, kids are diagnosed with cancer year-round. And the ONLY WAY to be able to give them better treatment options is to fund research, which costs money.
Teen Volunteer Opportunities
That said, summer is a fantastic season for fundraising! School's out and there are more hours of daylight, which means smoother sailing for tweenagers and teenagers to plan activities that not only raise much-needed cash, but also build leadership and organization skills. Best of all, there's a personal satisfaction in helping peers, not to mention college applications love it!  A recent article in U.S. News & World Report stressed, "Volunteering presents a tangible way for students to make a positive impact in their community and help organizations accomplish their missions, all while bolstering students' resumes for college applications and jobs." For inspiration, click to meet our newest $10,000+ club members, sisters Annelisa and Alicia Rebello! Recent high school graduate Annelisa is headed to Northeastern University this fall where she plans to continue her important work to help kids with cancer. Interested in also giving back? We have tons of resources available here and here.
While bake sales are a big part of our story, you don't have to be a kitchen whiz to get involved. There are lots of other ways kids and teens can help. Some fun ideas: 
Offer Services in Your Community
Buy a couple of inexpensive cases of bottled water. On a hot day, decorate a cooler with a C4KC sign and take to a local park or sports field to distribute in exchange for a donation. Load up some buckets with soapy water and microfiber cloths to wash cars. Offer to pull weeds or mow lawns. Student Shep Pounders started his own Small Engine Repair business and gives back a portion of his proceeds to Cookies! Ideas abound!
Get in Shape and Stay Accountable
Join the Good Cookie Challenge! This annual virtual event involves tracking mileage to earn pledged donations and is underway now! A great way to get in shape and be held accountable to your goal, CLICK HERE to learn more and join. The fun runs throughout June and July. FUNraise & Earn Cookies for Kids' Cancer Gear at different fundraising levels! #GetMovingGiveHope
Coin Collector
Set up a Penny Drive by asking local small businesses if they will agree to keep a large jar on the counter where customers can drop in spare coins. Be creative with signage on the jars explaining the mission and post detailed info about jar locations on social media—think IG Stories or TikToks. Tag us! @cookies4kids.
Help Parents and Kids at the Same Time
Organize a Parents' Night Out. If there's a safe space available that lends itself to group babysitting, such as a finished basement or backyard, older teenagers can throw a Parent's Night Out, swapping a few hours of childcare for cash. Ask a couple of friends to help babysit...a great way to get friends involved too. Up the ante by showing a fun movie, setting up board games or planning easy, age-appropriate crafts. Believe us, PARENTS WILL THANK YOU!
Get a Fave Restaurant Involved
Arrange a night off from cooking. Partner with a local restaurant for a Donate a Percentage Night to raise money. The restaurant agrees to share a part of its proceeds on a chosen night, and the planners promote the event (think flyers and social media posts) to boost business. In the summer, a smart hook is: Too hot to cook? Then don't! It's a natural lead-in to promoting the restaurant. Register and start a GIVING PAGE with your local restaurant HERE. Choose Awareness Registration at Check Out.
Donate Your Birthday
Summer birthday? Donate it to the cause! Click here to register and make a birthday impact friends and family will remember.
Get Crafty
Get crafty. Friendship bracelets in custom color combos are always popular. Original Arts and Crafts are a great way to showcase your talents and raise funds for critical pediatric cancer research.
And now is as good a time as any to make sure you're maxing out set-it-and-forget fundraising that happens on the reg without you having to think about it. Examples: 
Round Up. Basically you register a credit card with the RoundUp app and voila! Each purchase you put on that card is rounded up to the nearest whole dollar, with the difference funneled straight to the charity you choose.  
Our Cookie Jar program. We have a growing network of grassroots supporters who have committed to making monthly donations. A mighty sweet welcome package awaits! Click here to get in on the action. Bonus points if your employer offers a money match! 
Send Cookies. Parents, if you are reading this, send a Gift that Gives Back to your favorite GRADUATE!

See how easy it is to help get money into researchers' labs? You got this. We can't wait to see! Share your fundraisers on Facebook and Instagram and be sure to tag us 👍. #BeAGoodCookie