Meet Dr. Knoechel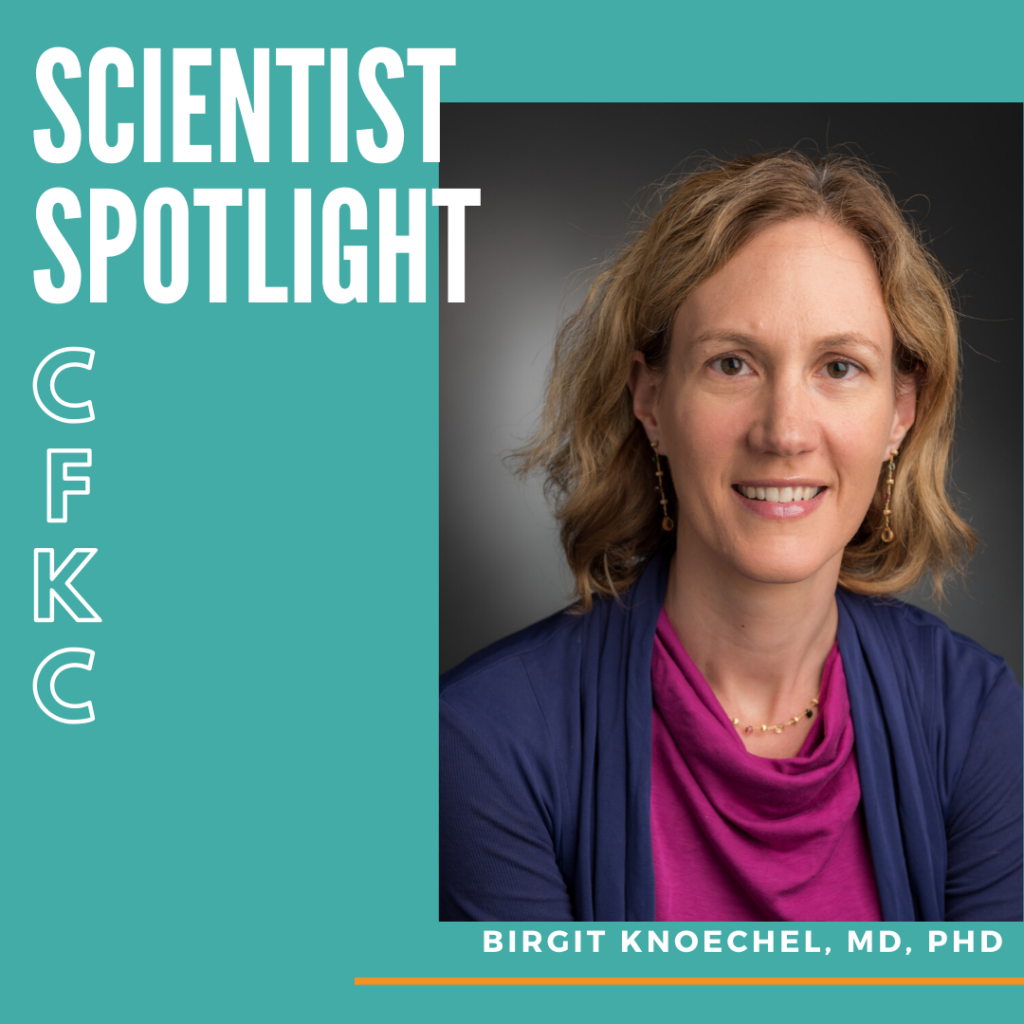 Birgit Knoechel - Assistant Professor of Pediatrics, Harvard Medical School
Hospital: Dana-Farber Cancer Institute 
Specialty: Pediatric Oncology
Research Project funded by Cookies for Kids' Cancer: Targeting galectin-9 as a novel therapeutic strategy in T-ALL
Tell us about your research project, Birgit… 
T-cell acute lymphoblastic leukemia (T-ALL) is a disease that affects children and young adults, for which outcomes have remained poor, often due to rapid development of resistance to current treatments.
Although cure rates have improved with combination chemotherapy, relapsed or treatment-refractory, the disease remains very difficult to treat. Therefore, there is a great medical need for identifying novel vulnerabilities and therapeutic approaches.
Targeting of the microenvironment, i.e. the normal immune cells that surround and interact with cancer cells, has led to promising results in many solid tumors. Yet, our understanding of the T-ALL microenvironment is very limited.
Using single-cell sequencing technologies of T-ALL cells and the normal immune cells from T-ALL patients, we have shown that T-ALL cells can hide from the normal immune cells, a process that is called immune evasion.
These studies suggest that treatments that target evasion strategies employed by leukemia cells to escape from the normal immune cells may be beneficial in T-ALL, a therapeutic strategy that has not been explored to date. We aim to develop novel therapeutic strategies to target immune evasion in leukemia.
What message would you like to share with our community of supporters? 
It is a great privilege and honor to receive funding from Cookies for Kids' Cancer and I am immensely grateful for your support. Thanks to your generous funding we will be able to focus on understanding T-cell exhaustion as the basis for diverse treatment outcome in T-cell acute lymphoblastic leukemia. This research would not be possible without your support and will be invaluable for our goal to develop immunotherapies for treatment of refractory or relapsed disease.
Tell us a little bit about yourself? Where were you born?
Hamburg, Germany
Why did you want to get into pediatric cancer research?
I had the privilege to encounter both excellent clinical mentors and physician-scientists who shaped my decision to choose Pediatric Hematology/Oncology as a specialty. These mentors showed me that it is possible to be an excellent clinician while being a successful researcher at the same time, and that true clinical progress is only made by constant improvement of clinical capability through the translation of basic research into the clinical setting.
Do you have children?
1 son, age 8
Are you a dog or cat person?  
More of a dog person, although I like all animals
What do you like to do when you're not in the lab?
Reading, being outdoors (hiking, biking, skiing)
What's your favorite piece of lab equipment?
Sequencing instrument
What's your favorite Cookie?  
White chocolate macadamia