Meet Dr. Stegmaier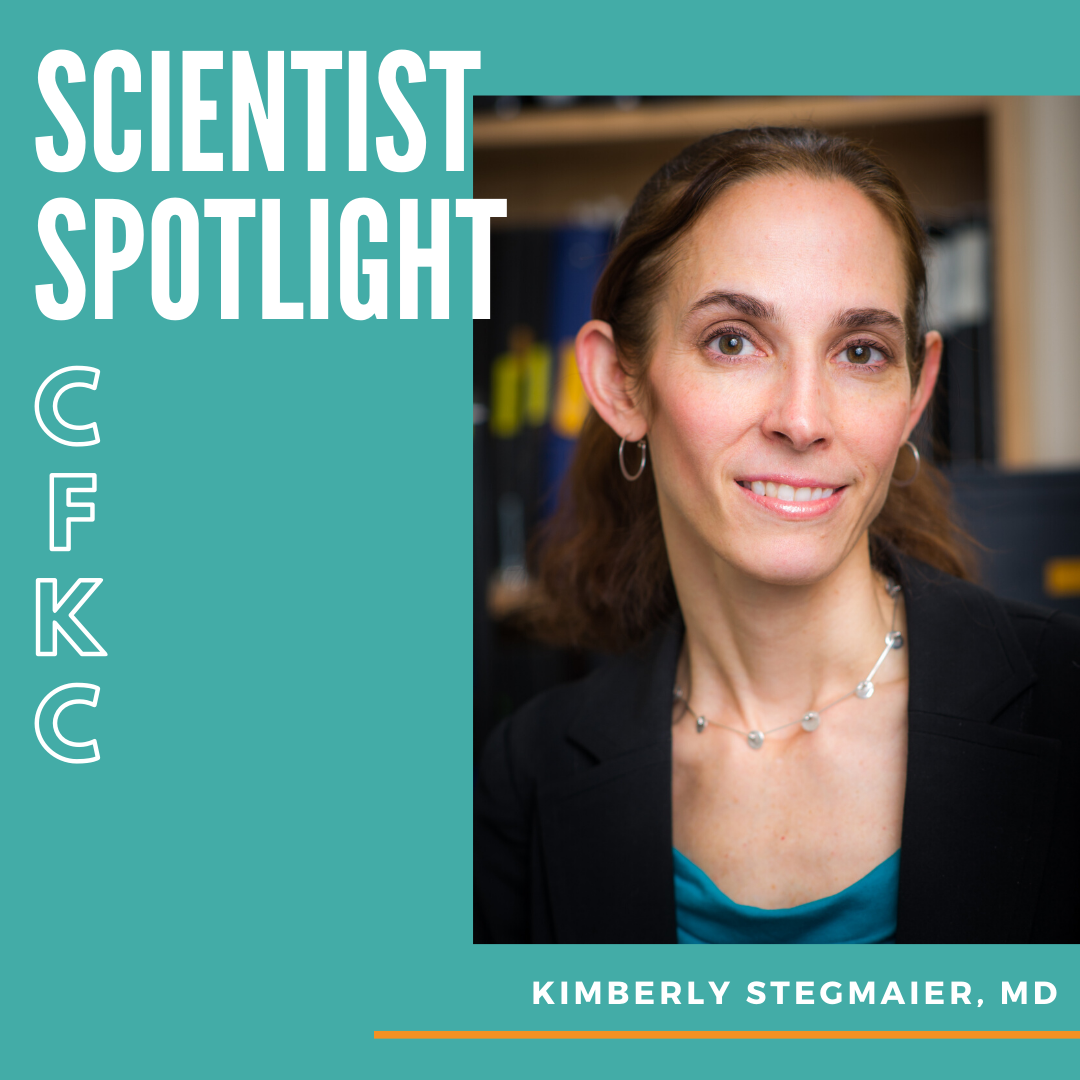 Kimberly Stegmaier, MD
Hospital: Dana-Farber/Boston Children's Cancer and Blood Disorders Center
Title: Co-director, Pediatric Hematologic Malignancies Program
Vice Chair of Pediatric Oncology Research, Dana-Farber Cancer Institute
Professor of Pediatrics, Harvard Medical School
Ted Williams Investigator, Dana-Farber Cancer Institute
Institute Member, Broad Institute
Research Project funded by Cookies for Kids' Cancer:
Discovering Novel Drug Combinations with CDK4/6 Inhibitors in Pediatric Cancer
Tell us in layman's terms, what is the purpose of the research project: Ewing sarcoma and neuroblastoma are aggressive solid tumors occurring in children and young adults. While a subset of children with these cancers will be cured with standard therapies, there are many others for whom treatments are ineffective leading to death from cancer progression. Some malignancies have recurrent mutations in genes in the cancer cells that make them vulnerable to targeted drugs.
Ewing sarcoma and neuroblastoma, in contrast, typically do not have these types of gene mutations, which makes it more difficult to establish effective targeted drugs to treat the cancer cells. Moreover, cancer cells become quickly resistant to single agent therapies, and combinations of drugs are necessary to achieve durable responses.
We and others have found that certain proteins that control the replication of cells, CDK4 and CDK6, are essential to Ewing and neuroblastoma cell survival. Drugs that inhibit these proteins are effective in Ewing sarcoma and neuroblastoma preclinical models, and these drugs have been FDA-approved for breast cancer in combination with anti-estrogen therapies.
It is clear, however, that these CDK4/6 inhibitors need to be used in combination with other drugs for maximal effectiveness. Thus, the goal of this proposal is to identify highly effective drug combinations with CDK4/6 inhibitors in Ewing sarcoma and neuroblastoma.
We have found that the combination of CDK4/6 inhibitors with IGFR1 inhibitors is highly synergistic in Ewing sarcoma, a combination that emerged from both a chemical screen and a genetic screen, and one that could be readily translated to clinical trials.  We are excited to report that with your support, we have successfully translated this work to a clinical trial testing the CDK4/6 inhibitor palbociclib with the IGF1R inhibitor ganitumab for patients with relapsed or refractory Ewing sarcoma. This clinical trial is open and enrolling patients.
What message would you like to share with our donors: 
We can't thank you enough for your generous support of pediatric cancer research.  It has been essential to the success of our work and that of so many other researchers. Now, more than ever, we cannot lose sight of the fact that cancer is the leading cause of death from disease in school-age children in the U.S.  We need to continue in our fight against these terrible diseases.
Tell us a little bit about yourself – where are you from?
Malverne, NY
Why did you want to get into pediatric cancer research:
For reasons not entirely clear to me, even as a child, I was interested in cancer. As a sixth grader, I did a research project on pediatric leukemia in the gifted program and wrote a fictional story about a child battling cancer.
In college at Duke University, I was fascinated by the cancer discussion in a cell biology course. A research career, however, was not yet in my range of sight with no scientists in my family and no prior laboratory-based research experience.
A sea change began after my medical school interview with Dr. David Sabiston, then the Chief of Surgery at Duke University Medical Center. Surprisingly, he called me to follow up on our discussions and to urge me to consider a physician-scientist path. I was shocked by his genuine interest in my career and intrigued by his suggestion.
During medical school, I continued to be drawn to the study of the biological basis of cancer, and with the seed planted three years prior, decided to pursue a year-long Howard Hughes Medical Institute (HHMI) Medical Student Research Fellowship. It was during that time, while working under Dr. Gary Gilliland's and Dr. Todd Golub's mentorship on the molecular basis of pediatric acute lymphoblastic leukemia (ALL), that my long-term commitment to cancer research began to really take shape. It was a transformative year culminating in our discovery of frequent ETV6 gene abnormalities in children with ALL. I often wonder where I would be today if it were not for the excitement of that first year in the laboratory and the outstanding mentorship of Drs. Gilliland and Golub.
After receiving my medical degree from Harvard Medical School, I embarked on residency training in pediatrics at Children's Hospital Boston. I always loved working with children. Quite simply said, they make me happy. Their inquisitiveness, their excitement, their sheer joy –they renew a magic that we each once knew. With this said, I realized that working with children with cancer might be a different experience than working with healthy children. However, during my residency training, I found myself gravitating toward the emotional intensity of working with these children and their families. Despite this life and death battle we were engaged in, there was a resiliency and passion for the living part of the battle. We made paintings together, played Candyland, and shared stories about roller coaster rides at Universal's Island of Adventure theme park.
The privilege of caring for children with cancer affirmed my passion to pursue a career in pediatric oncology and made even more obvious to me, the dire need for improved therapies. I am often asked, "how can you do this?" I would answer, "how can you not!"
Dr. Stegmaier with her children.