Classic Black & White Cookies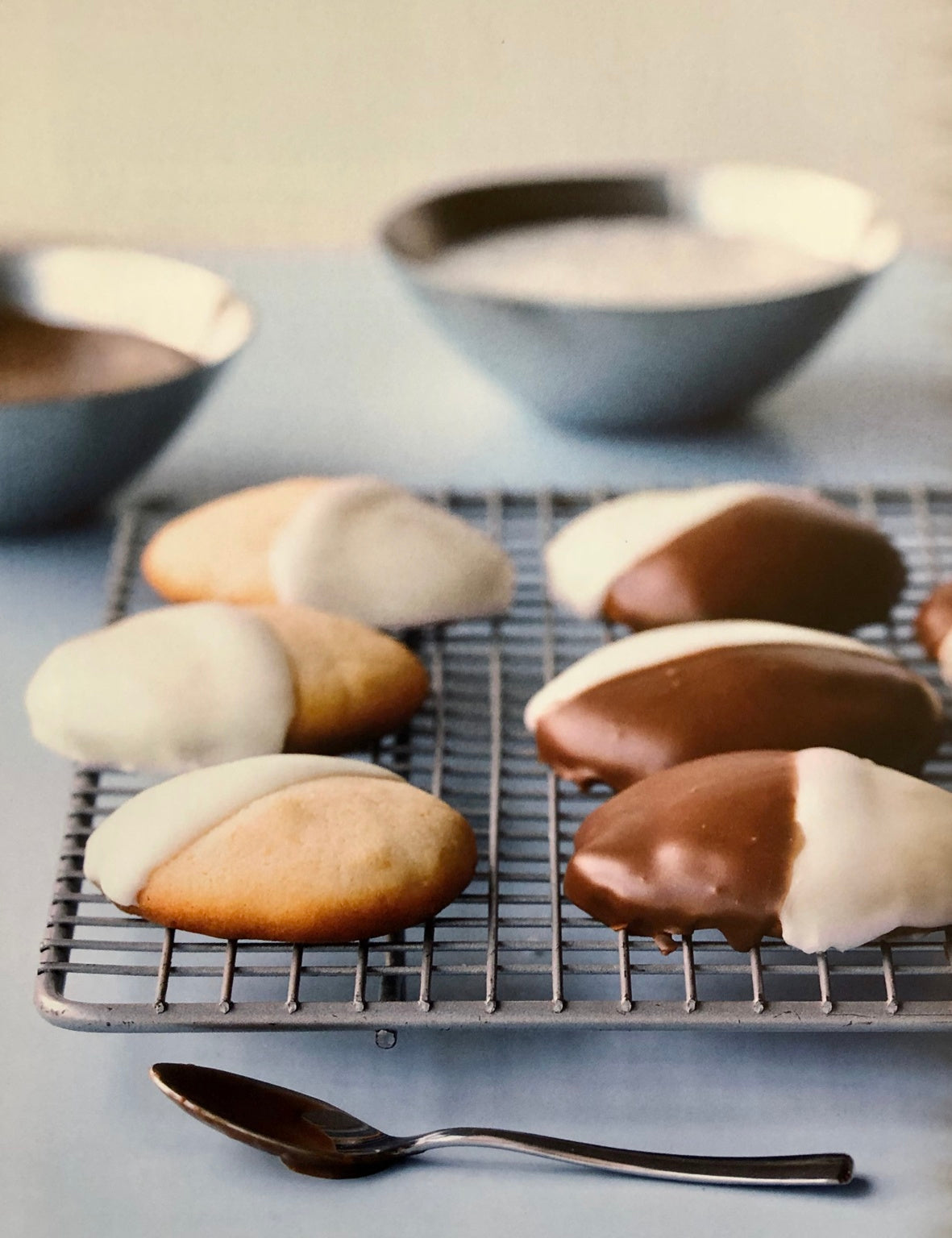 From our
Best Bakesale Cookbook
, pg. 19
Yield: About 6 dozen cookies
For the cookies:
2 sticks (1/2 pound) unsalted butter at room temp
1 ¾ cups granulated sugar
4 large eggs, at room temp
1 cup whole milk (please don't substitute low-fat milk)
1 teaspoon vanilla extract
2 ½ cups cake flour
2 ½ cups all-purpose flour
1 teaspoon baking powder
For the icing:
4 cups confectioners' sugar
1/3 cup boiling water
1 ounce bittersweet chocolate, melted
Preheat the oven to 375 F. Line 2 cookie sheets with parchment paper.
Place the butter and sugar in a mixer fitted with a paddle and a beat until light and fluffy. Add the eggs, one at a time, mixing well between additions. Add the milk and vanilla and beat well. Place the flours and baking powder in a bowl and mix well. With the mixer running, gradually add the dry ingredients to the butter mixture and beat until completely mixed.
Form the dough into tablespoon-size balls and place about 2 inches apart on the prepared cookie sheets. Transfer to the oven and bake until the edge of the cookies just begin to brown, about 15 minutes. Transfer to a wire rack and repeat with the remaining dough.
To make the icing: Place the confectioners' sugar in a large mixing bowl and add the water, 1 tablespoon at a time, until the mixture is spreadable but still thick. Transfer half the icing to another mixing bowl and stir in the melted chocolate. Set aside to cool.